Where are they now?  Favorite artists who have toured for Allied in seasons past…. 
It was my pleasure to talk with each of these pianists over the last 2 days.  Each of them are interesting and friendly, as well as dedicated to performing for live audiences.  Each of them fondly recalls the concert tours to your communities. Challenges such as weather, tech difficulties or logistics really receded from mind, leaving just good memories.    
– David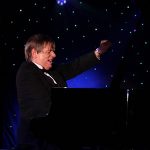 MAC FRAMPTON—a long-time Atlanta resident remains active, especially on cruise lines like Cunard.  At least he plans to be playing when the cruises can safely resume.  Mac is well aware that his technique needs to be in good shape or people will notice a less clean and polished performance.  So he's practicing regularly while learning some new music.  But he still relies largely on the Great American Songbook, Broadway, Pops and other beloved favorites ("Rap does not work for piano.") as the audiences on the ships are quite similar to his Midwestern audiences, which he says are the best!  Having enjoyed many of Mac's performances, I know that every audience will get a dynamic, energetic, fun and outgoing show!  Mac keeps a detailed data base of his performance history and reports that his first performance for Allied was on 3/19/77 in Fergus Falls, MN.   While Mac is past the official retirement age, he still loves to perform and does not plan to retire.  Although strolling back to his shipboard cabin after a show beats driving through a blizzard to the next night's gig!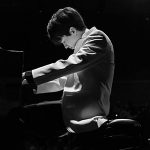 CHARLIE ALBRIGHT—lives in Seattle with his wife.  She is working for Microsoft from home while Charlie learns new repertoire and works on his online presence.  The new repertoire such as the 2nd Rachmaninoff Piano Concerto will make him more attractive to orchestras when they get back to regular concertizing.  Charlie has a YouTube Channel and a Facebook following where he regularly posts new recordings.  And he's working on livestreaming what was planned to be a nice residency with the Philly Pops for a series of Christmas concerts.   Here's two-fer opportunity for you:  Subscribe to Charlie's YouTube Channel or Facebook page and enjoy his musical postings.  You get the great music of Charlie Albright and know that you are supporting his efforts in this tough time.  A favorite memory involved a last minute request for him to improvise background music while a concert association board member read the children's book "The Wonky Donkey" to kids seated on stage.  It was an unusual request, but turned out to be interesting and fun.
https://www.charliealbright.com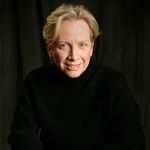 JOHN BAYLESS—lives in Palm Springs, CO where he is the Artistic Director of the Virginia Waring International Piano Competition.  (Think Fred Waring & The Pennsylvanians, and the Waring Blendor.)  John has created a new one-man show, One Hand, One Heart—My Life & My Music, and had a movie made of his life, Left Alone.  He continues to compose and arrange music but fondly recalls his tours for Allied.  John loved the audiences for their kindness and friendliness.  Austin, MN was his first show for Allied many years ago.  One of his most memorable performances was in Hutchinson, KS for a Christmas program which was beset by a nasty blizzard.  No more than 50 people braved the weather, but they were rewarded with a wonderfully intimate show ending with free CDs to everyone.
https://www.yamaha.com/artists/artistdetailb.html?CNTID=5817101&CTID=5070200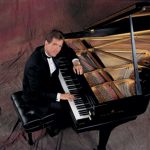 DAVID OSBORNE—native of Miami, OK, but long-time resident of Las Vegas, NV.  David was recently inducted into the Oklahoma Music Hall of Fame, joining the many famous names such as Garth Brooks, Kristin Chenoweth, Roy Clark, Gene Autry, Carrie Underwood and Woody Guthrie.  David has a very diverse career which is anchored by his regular gig at the Bellagio hotel in Vegas where he recently returned to perform with new safety precautions in place.  While he is heard by millions each month over Pandora and Spotify, David "loved every place we played" for Allied.  Those live performances with his sidemen really allow his friendly personality to shine through and interact with the audience.  Each audience enjoyed not only a plethora of musical favorites, but a great show, too, capped off with David's musical tapestry of audience requests woven together seamlessly.