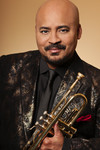 Rodney Marsalis is a fine trumpeter who has toured for us as the leader of the Rodney Marsalis Philadelphia Big Brass, both as a quintet and with his larger ensemble.  Rodney's uncle Ellis Marsalis—a famed New Orleans jazz pianist and educator, and father of trumpeter Wynton, sax player Branford, trombonist Delfeayo and drummer Jason—recently died from Covid 19.  The following Tribute to Ellis was penned by Rodney and we thought you might enjoy a brief inside look at growing up in the Marsalis family.  It is shared with you with Rodney's permission.
A Tribute to Ellis Marsalis Jr.
I stepped onto the porch of my cousin's house, followed by my mom. I was ten years old. Ellis Marsalis came to the door to let me in. "What kind of ax is that?" he said. "It's not an ax. It's a trumpet." He shook his head in a way that I would see many more times, every time that I said something foolish.
Lessons with Wynton happened every weekend. Mostly, I wanted to hang out and play video games with my cousins closest to my age, Delfaeyo, and the younger Ellis. Wynton held up the Arban's book and said, "this will be your bible." He kicked my butt in lessons on the basics of trumpet playing so much that sometimes his mom would have to admonish him from the other room. "Wynton, don't be so hard on that boy!" However, I knew even then that he was serving up gold in the form of knowledge. I would pull out playing cards and start playing battle against an imaginary foe. Wynton would flop down and play with his younger cousin. Branford would show me how to circular breathe, and Delfaeyo and Ellis would show me how to navigate the streets of uptown New Orleans.
I remember riding to a gig in a van with Wynton and Branford and sitting in a small backstage area while they prepared to go on to do a set on the riverboat on the Mississippi River. I remember their strength and confidence. I remember going to a concert with Branford, where Wynton was playing in a suburb of New Orleans. One where we were certainly not welcome as three young brown-skinned boys. Two boys sat on a table and snickered and pointed at us. Branford said, "watch this". He slowly walked over to them and sat down next to them and just looked at them. They stopped snickering and stared straight ahead. Branford nodded his head and slowly walked back over to where I was sitting. The lesson about hate and fear was not lost on me.
Ellis was a teacher and counselor for me at New Orleans Center for the Creative Arts. I started in his jazz class, but I was always drawn to the classical music recordings in his closet. Wynton must have left them there. There were recording of the Arutunian Trumpet Concerto with Timofei Dokshizer, and The New Trumpet and Cornet Favorites with Gerard Schwarz. I listened to them over and over again. I practiced Carnival of Venice in hopes of one day playing it as well as Wynton did on his senior recital. I felt guilty for not wanting to be a jazz musician until Kent Jordan told me that I could play whatever style of music spoke to my soul. Doreen J. Ketchens encouraged me to keep going when she heard me practicing in the basement at NOCCA. Harry Connick Jr. roamed the halls in his tan Catholic school outfit, still straddling the classical and jazz music departments, often getting that signature shake of the head from Ellis and other leaders of the NOCCA staff. Reginald Veal sat on a bench with an electric bass walking his first bass lines. Actress Jonell Kennedy opened the doors to us about the depths of human drama in Shakespeare and opera singers, composers, dancers, writers, violinists, and pianists all commingled in a New Orleans gumbo of young creativity.
I kept working on the Carnival of Venice. Ellis played it with me at a local competition. When I finished performing, he said to the others, "y'all might as well go home." I won first place. He helped me get into my first summer festival, Eastern Music Festival in North Carolina, and continued to be a part of career canceling when I was a kid. By the age of fifteen, he admonished me for not having a philosophy about life yet. They thew me out of NOCCA. They said maybe if I won the concerto competition I could come back. I went into practice overdrive and won the concerto competition and soloed with The New Orleans Symphony. The next Fall, I was sitting in class, and Ellis walked over to me and said, " I thought we threw you out of here." I looked up at him and said. "You did." He said, "hm, shook his head and walked away."
I graduated from NOCCA and went away to college, won the solo competition at Boston University, and ended up soloing with Boston Pops with John Williams conducting. Roger Voisin taught me orchestral excerpts, and at the age of nineteen, I won a position second trumpet with the New Orleans Symphony. I moved from that job to England Conservatory to the Curtis Institute of Music. I landed in San Diego after winning a job there and the Colorado Symphony Orchestra. From the first day with the New Orleans Symphony, some helpful colleagues welcomed me with open arms, and others made it clear that a little black boy was not in his place. "Do you want us to move our cars so you can play basketball?" That was my welcome to my first rehearsal with the New Orleans Symphony. "You don't play with the symphony!" That was my welcome to my first rehearsal with San Diego Symphony as I watched the parking attendant wave in other new players at the outdoor facility where I would play my first professional Pictures At An Exhibition. He just saw a young black guy trying to get into the nice parking area. He was doing his job as a cultural gatekeeper.
Fast forward to my days of being pulled over constantly during the pre-Rodney King days in Southern California. "Is this your car?" I thought that question was asked to everyone until my friends in the symphony let me know that they did not experience that at all. I would head to New York and hang out with Wynton whenever I could to get away from it. I remember calling our family sage, Ellis, to talk. "You need to start your own group," he said.
Fast forward again and The Rodney Marsalis Philadelphia Big Brass had been formed. I was sitting at the kitchen table in Ellis and Delores' house showing Ellis the brochure and program. "It's smart to have Sousa on the program," he said. Once again, he was right. As we played all around the country, there was always a strong response to the Sousa Marches. Ellis talked to me for a long time about the music industry and my mom finally came in and said we had to go. I did not want to leave. This was the same kitchen table of knowledge where he told my mom that I had to practice five hours a day and not look for a fallback plan. It was where discussions about the definitions of certain words were the subject of family conversations and where my cousin Delfaeyo made me spit out my milk and get in trouble with Delores because Delf was so mischievous.
One of the last times that I saw Ellis was backstage at Tanglewood when our group was playing with him and Delfaeyo at Seiji Ozawa Hall. He made a few nice comments about the Harry James solo that I played. Ellis seemed older and moved slower than I remembered. He was approaching his eighties. However, the wisdom and knowledge were there until his last days. My mom talked to him a few days before he passed, and she said that he sounded like his old self.
When I saw the text with the phrase "Ellis just passed" from my sister, it hit me all at once like a ton of bricks. I went into our front room, hugged the piano, and cried. In recent days, the feeling has turned from sadness to joy. When life is well-lived, the person is never truly gone. Ellis would spend hours talking to students and others after a concert. He passed on so much wisdom and knowledge to everyone that he met. His legacy of humility, intellect, humanitarianism, and compassion will go on forever. I have a feeling that he is looking down at me and shaking his head at every foolish move that I make. I also hope that somehow, I picked up enough wisdom from him to make him proud because that is all I ever wanted.
– Rodney Marsalis