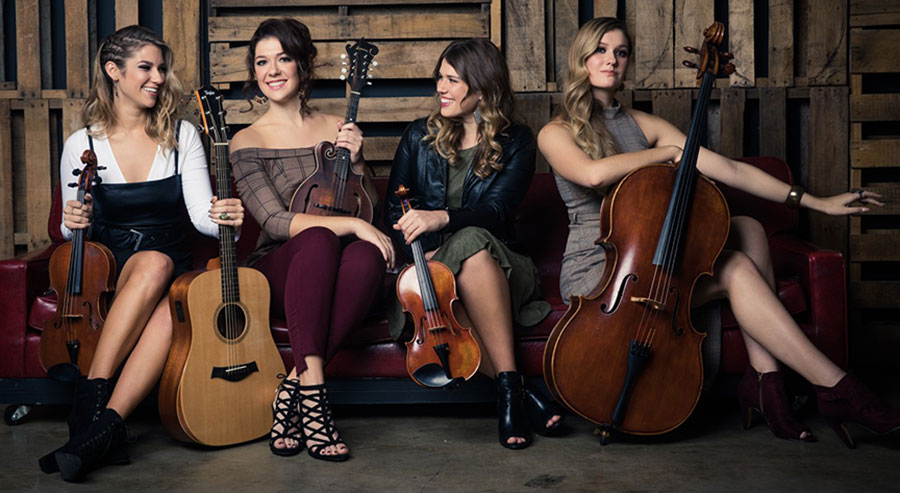 One of the last tours completed for Allied before the shutdown was The Hall Sisters.
The Hall Sisters (Jessica, Natalie, Lydia and Valerie) are from North Carolina, and have established themselves as one of the up-and-coming and premier acts in the country pop genre.  Their program features a unique blend of the Andrews Sisters plus other familiar songs, and the sisters play violin, viola, cello, mandolin and piano.
The sisters have performed at notable venues such as the Grand Ole Opry, Carnegie Hall, the Country Music Hall of Fame and the National Quartet Convention.
The Hall Sister did a fabulous job of performing for, and connecting with, our audiences.
Here is what our audiences had to say:
"Everyone enjoyed the sisters and family. So very nice and humble to work with and appreciated everything." Marshall, MN
"I liked the inclusion of so many familiar "Oldies". Blend of voices was amazing." Glencoe, MN
"The audience seemed to "fall in love" with the sisters. They had such a warm stage presence and they looked like they were thoroughly enjoying every minute of the concert and being with one another." Pontiac, IL
And a note from The Hall Sisters to us:
"Dear Allied, thank you so much for allowing us to tour with your fine company.  We had a great time!" The Hall Sisters
On top of all of that, the Halls are some of the nicest people you will ever meet.
Allied is excited to announce that The Hall Sisters will be on our roster for the 2021-2022 touring season.
To learn more about The Halls Sisters please visit: